*Skill Guide*: 1-99 Thieving [Fastest Way + 10m GP]
Hey guys, Sam here and sorry for not making my guide last week, I got bad news on Friday and didn't have time to do my guide, on a side note, Thanks to Flawy for doing it for me. =)
Alright so today, I did not make a video or anything, just a good old writing guide which tells you the probably fastest way I know as of today + good profit (around 10m GP)
The guide will be about Thieving!
- Runescape Membership And A Computer
- Ardougne Cloak 3
(Increase Chances of Pickpocketing)
- Gloves Of Silence

(Same effect as Ardy Cloak 3)
- Vials of Stench

(only needed for 5-30, gives ability to sell back stuff to merchants after stealing it)
- Food or Enhanced Excalibur.
1-5
For Levels 1 to 5, you will be pickpocketing men in Edgeville.
Around 2-3k exp per hour.
5-20
For Level 5-20, you will be stealing baker's stall in ardougne then sell him back stuff with Vial of Stench (Faster than banking) I recommend going to Ardgoune's market for this part.
The exp rate is around 8k/hour
20-35
For level 20-35 we will stay at ardougne (Yay) For this part of our long quest to 99thieving, we will steal from Silk Stalls.
Around 15k per hour
35-50
Now we will move toward the Thiev's guilds (You will need to complete Buyers and Cellar and another small quest named From Tiny Acorns) Very short and fun quests.
So for this part you will need a lockpick because we will be openning chests and doors.
So go to Thiev guild and open every doors on both sides, then just open the red chests, and repeat.
Average Exp: 60k per hour
50-65
Once you reach Level 65, you will stay at the thiev's guild but this time you will need The Feud and a blackjack.
You will be Luring and knocking the Coshing volunteers.
First you lure, then you knock, then loot as fast as possible.
That's where it starts getting interesting with an average of 100k exp per hour!
65-91-95
Here we are at one of the longest part of our road to 99 thieving, but it also gives a stunning 235k exp per hour!!!
this consists lure and knocking, again but at menaphite thugs in Pollivneach in the desert. You will need a maple blackjack for this part.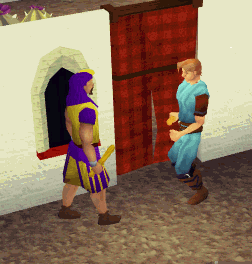 91-99
This route is only recommended if you haven't done Do No Evil/Or don't want to do it. If the opposite, please skip to next section of the guide.
This part and the last part will be about Pyramid Plunder. I am myself not very familiar with it and I'm going for 99thieving too, so I decided I'd show you the guide I'm using for it:
Pyramid Plunder Guide 2012 – 200k+ xp per hour – FairytalesRS -
95-99
So you've done Do No Evil? Great then Monkey Knife Fighters might be a great idea for you to train on. For this part it's a bit like Lure N Knock except you will need a Gorilla Gree Gree and your fist
is the blackjack =P
First go to the monkey fighters near banana plantation in Ape Atoll, then just knock them off.
You should get around 300k/hour
Congratsulations you just achieved 99 thieving!@! So now all you need is 99k and head off to Rogue's Den and talk to the man wearing a thieving cape, and you're done!