[P2P]King Black Dragon Slaying
The King Black Dragon is a boss monster that resides in his lair deep in the wilderness. At level 276 he is definitely a force to be reckoned with, but fortunately, I am here to provide a guide to killing this creature as a mid-high level warrior and hopefully claiming a fabled Draconic Visage.
Melee – To prevent melee damage, you will be using the Protect from Melee prayer
Regular Firebreath – Will be wielding Anti-Dragon Shield or a Dragonfire Shield and drinking an Antifire Potion
Shock Breath – As a very hard hitting magic attack, It is recommended to wear good magic defense armor
Ice Breath – Not as dangerous damage-wise, but can stop you from moving or attacking
Poison Breath – This Breath is also easy to defend against, 1-2 Super Anti-poisons will render this attack useless
This section may vary from person to person depending on ones skills and wealth. The following set-up is the gear that i used in my last duo trip.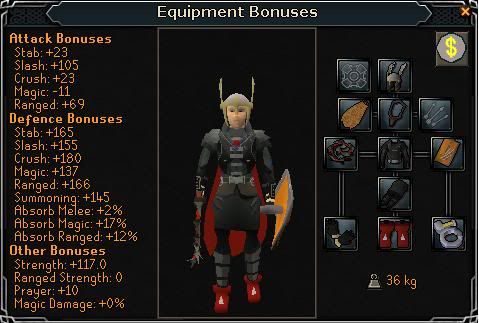 Slayer Helm (with black dragon task) > Helm of Neitiznot

Amulet of Fury > Amulet of Glory

Fire Cape/Skill Cape

Karil's Body > Black D'hide Body

Karil's Skirt > Black D'hide Chaps

Dragon Boots

Barrow's Gloves

Chaotic Rapier > Abyssal Whip (Zamorak Spear may work well with Super Antifires)

Dragonfire Shield > Anti-Dragon Shield (Dragon Defender with Super Antifires)

Berserker Ring > Ring of Wealth > Ring of Life
Special Weapon (Dragon Claws > DDS)

Emergency Teleport (House Tab)

1 Super Attack Potion/1 Super Strength Potion

2 Super Anti-Poison Potions

2 Antifire Potions (Super Antifires if you have access to them)

4 Prayer Potions

Sharks (Number will depend on team size/Combat Level/Gear etc.)
There are many different options for familiars
BoB – Pak Yak > War Tortoise > Terrorbird

Combat – Lava Titan > Any other Titan

Healers – Unicorn > Bunyip
BoB are good for extended trips, as they can stand the loot from more than twice the kills as the combat or healing familiars. Pak Yak scrolls are recommended so you can bank items mid-trip.
Combat Familiars are good for quicker kills, Very useful in large group as you wont get as many drops in the same amount of time as a solo. Lava Titan was selected as the best Titan because the attack difference isn't that significant from the higher level titans and the Lava titan has a teleport option that lands you basically at the KDB lair.
Healing familiars can be used to cut down on food usage, which can be good news for slayers who want to save space for drops. Unicorn is preferred as it heals much more health than bunyip does.
In the KBD's lair, there is a summoning obelisk in the northwestern corner. This make familiars extremely effective. The most ideal setup being switching between pak yaks to bank items and unicorns to heal. If your summoning is not that high (like mine) a war tortoise and bunyip will also work
Green is from Wilderness Pond (Canoe)
Red is from Lava Titan Teleport
Yellow is from Wilderness Lever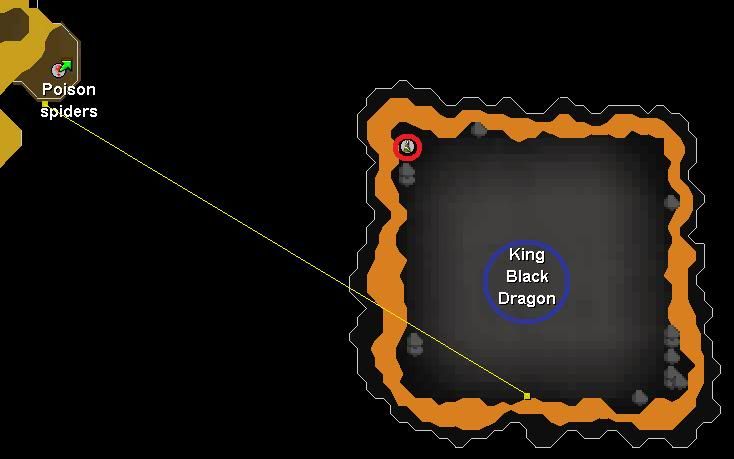 When you go down the ladder you will arrive in a room full of poison spiders. When you are in this room you will drink your anti-poison, antifire, and super attack and strength pots. Now that you're all yolked up, turn on pray melee, wield your special attack weapon and pull the lever. You are now in the King Black Dragon's house, and he wasn't expecting company. You and your team will form a circle around him and unleash your specs. When he dies collect your loot 
. When summoning points run low, you can recharge using the northwestern obelisk. Drink your potions when necessary, and have fun.
Want to see even more guides, be part our Cylvus's awesome community, and even get free RuneScape membership?
CLICK BELOW & Join Cylvus Forums today!